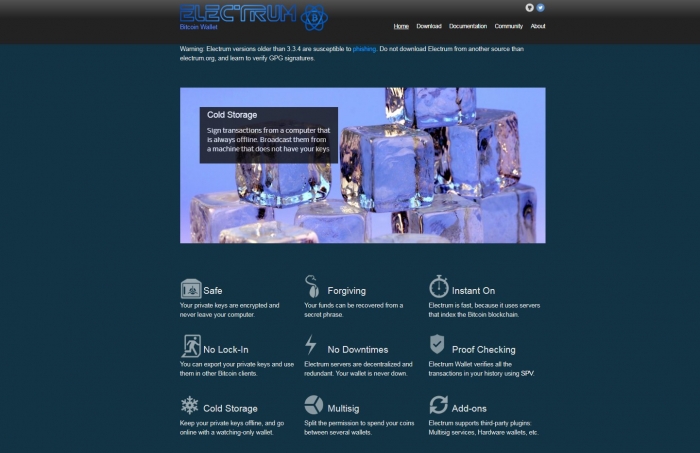 Electrum is a downloadable software wallet with support for Windows, Mac, and Linux. Launched in 2011, it is one of the longer running Bitcoin wallets. It comes with an easy-to-use and intuitive interface that makes it possible to store, send and receive cryptocurrency. The software has a rich feature set that includes hardware support in addition to configurable transaction fees.
How Easy Electrum Wallet Is
The wallet is very easy to set up and use. It was released as the Bitcoin-only wallet. It means that users will not be able to operate other types of coins and currencies including different BTC forks. However, experienced users will have a chance to modify the wallet so that it could support other cryptocurrency forks.  
Users will find it easy to handle and manage different transactions through the Electrum wallet. It does not matter where the coin originates from. The platform makes it possible to receive BTC from an individual or business organization. What's more, the system comes with support for Bitcoin blockchain.
Setting Up the Electrum Wallet
The installation and setup process is very easy. You only need to follow several simple steps.
Step #1 – Install the Software
As it was stated earlier, Electrum is a cross-platform Bitcoin wallet. It runs across different OS and devices. Users may choose the version that meets their device requirements. The wallet supports Windows, Linux and Mac.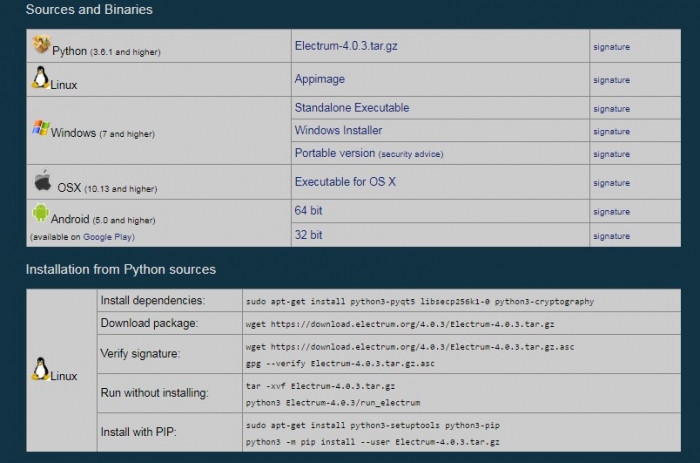 All you need is to:
Visit the official website.

Choose the best-matching software version.

Download exe. file.

Run the installation and open the wallet.
Step #2 – Create a new Wallet
The next stage is to create a new wallet. Users will need to follow several easy steps to choose the type of wallet. Here we have some major options such as:
Standard;

Two-factor authentication;

Multi-signature;

Hardware.
Select the type of wallet you want and move on to the next stage. And don't forget to give it a name right from the start. Otherwise, it will be assigned a default name.
Step #3 – Create a new Seed Phrase
In the next window, you will see several options for the recovery seed phrase. As we are opening a new wallet, we do not need to recover an existing seed phase. So, let's create a new one from the ground. The last stage is to indicate the phrase type (enable the Segwit or Legacy type).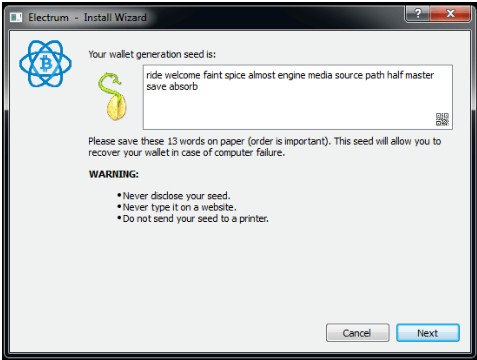 Once you have successfully completed the procedure, you will see a seed phase phrase automatically generated by the software. Users are free to type in their own phrase. Whatever you do, make sure you write it down to be able to access whenever needed.
Step #4 – Set Up Password
The last step is to type in your password in the new field and then confirm it. Right down the password along with the seed phrase to have all required data to sing it or recover your wallet in case of necessity.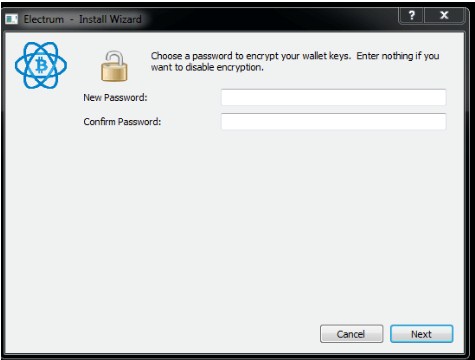 How to Receive Coins with Electrum Wallet
When the setup is completed, you will find yourself inside the Electrum wallet. It depicts your current balance along with the status. Besides, here you will find all the major actions to take. Users can track the transaction history as well as send or receive currency from other users.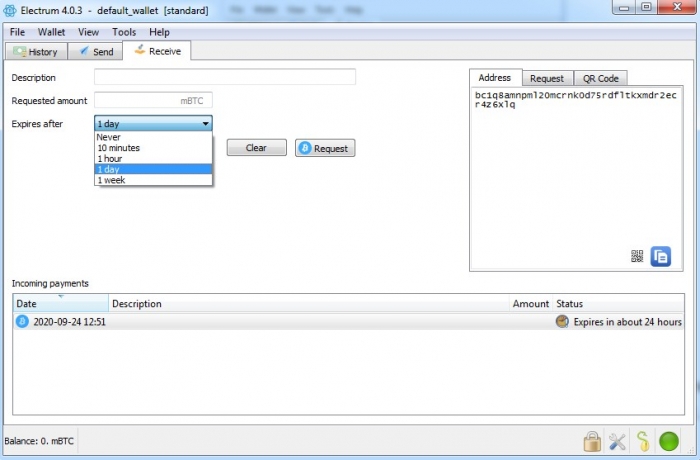 To get coins from another user, we will need to do the following:
Choose the "Receive" type of transaction.

Provide the transaction description (not obligatory).

Indicate the requested amount.

Choose the expiring period. It may vary from 10 minutes to 1 week.

Press the "Request" button.
The system will automatically generate the BTC request with additional info. Besides, you do not need to create the receiving address manually. It will be already displayed and ready-to-use. Here you may find the QR-code that can be sent to the sender. Users can also track the status of the transaction along with the time remaining until it expires.  
How to Send Coins with Electrum Wallet
Sending or spending Bitcoins with Electrum is also very easy.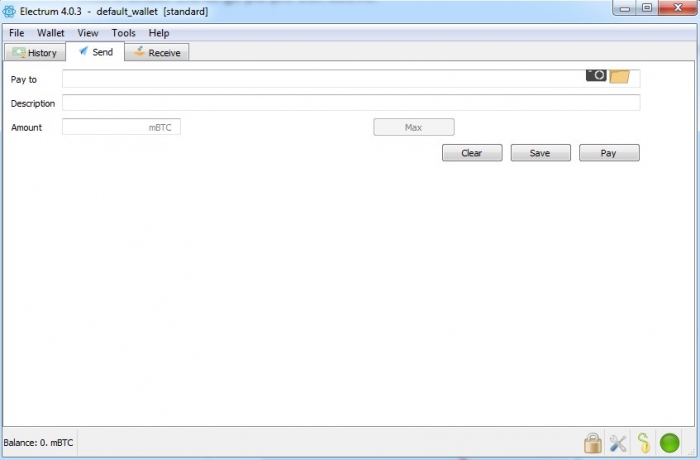 We need to go back to the wallet interface and do the following:
Choose the "Send" type of transaction.

Insert the address where you plan to send coins. Make sure a receiver has a valid and active Electrum address.

Specify the transaction description.

Indicate the amount of BTC you want to send.

Press the "send" button.
Once again, you will see all the insights right here inside the dashboard. The system shows the status of the transaction as well as the time remaining. Users may save the transaction as a template for further operations as well as track the history of all operations made.
Electrum Fees
The system used to have a manual tool that lets users set transaction fees manually. However, the wallet has evolved to deliver a fair and clear pricing policy. It uses special algorithms based on historical averages of all transactions you make within a predefined time frame.
It takes into account the time needed for a transaction to be included in the block as well as all operations completed recently. All the data is used to make accurate predictions on the amount of fees you are going to be charged. If you do not like the size of the established fees, you may still use a separate calculator or fee estimator.
Is Electrum Wallet Safe?
The Electrum wallet comes with a wide range of different safety features. Although some issues have been reported a few years ago, developers claim they have fixed all the bugs and even updated the system with advanced cyber protection means. The list of all safety features includes the following:
Private keys encrypted and protected with a password;

Seep phrase to backup the wallet in case of necessity;

No script downloads to ensure access to your coins even if the server is down.

Open-source server code and decentralized model for enhanced protection.


Additional Electrum Wallet Features
Apart from an expanded list of safety tools, the platform comes with a rich set of additional features.
Plugins
Users may access a variety of different plugins. They include utilities for multi-signature wallets. Tools to manage all the assets through a single email account, instruments that make it possible to keep all labels on the remote server as well as synchronize them across multiple platforms.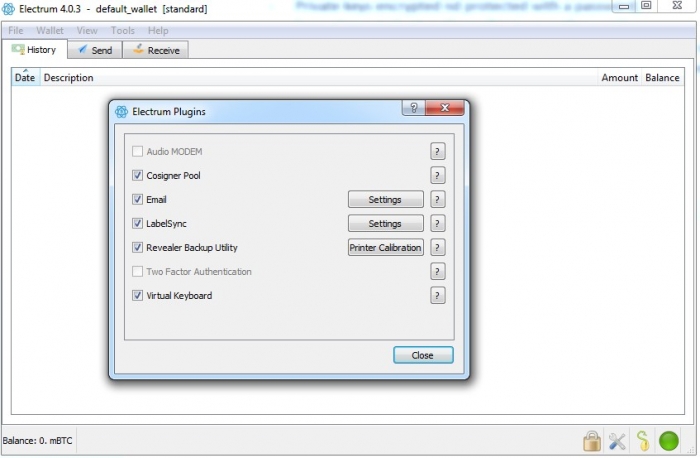 The revealer backup utility is an extra plugin that helps to create a visually encrypted backup of your wallet seeds or custom alphanumeric secrets. Users may also benefit from a virtual keyboard, two-factor authentication, and more.
QR-Code
The feature makes the process of receiving coins as easy as possible. All you need is to provide a sender with the QR-code that contains all vital information including the requested amount, email and expiration date. What's more, the transaction can be additionally loaded from Blockchain, text or file.
Wallet Update
If something happens to the wallet, you may update it with just a few clicks. All you need is to go back to the official website, download a new copy of exe. file and follow the prompts provided during the installation process. The updating procedure will take a couple of minutes, while you will restore the control over your coins as well as completed or pending operations.
Electrum Wallet Pros and Cons
Electrum is one of the best software BTC wallets. However, it is not perfect. Like any other software, it comes with some obvious hits and misses.
Electrum Pros:
User-friendly and intuitive;

Fast setup and installation without special skills required;

Great to manage regular BTC transactions;

Enhanced security means along with seed phrase, password protection, wallet backup, and more;

Blockchain download is not necessary. Instant operations from a server;

Encrypted private keys that never get to the server;

Open-source software wallet with hardware support;

Various ways to load transactions;

Available at zero cost;

Automated fee calculation based on the average transaction volume and other data generated by the system.
Electrum cons:
Supports Bitcoin only. Does not work with BTC or other forks.

Still available to hackers' attacks.


The Bottom Line
Electrum is a very simple and intuitive software wallet that lets users proceed with different Bitcoin transactions. It helps to store, send or receive coins despite their origins, which means direct transactions between both individuals or business organizations. The wallet offers expanded support with multi-signature accounts, two-factor authentication and protected private keys. What's more, the system runs across various OS and is easy to restore or backup. A great option for those who deal with regular Bitcoin payments.