Founded in June of 2012 by Brian Armstrong and Fred Ehrsam, Coinbase is one of the largest cryptocurrency platforms to serve globally.
Initially, they started as a digital cryptocurrency broker service by selling crypto directly to customers in exchange for fiat money through bank transfers. Within a year, they received a Series A investment of $5 million. Later that year, the substantial rise in the number of users led to another $25 million investment as their user base grew close to 1 million users. 
The amount of funding and a growing number of users turned out to be crucial for many other services Coinbase could offer. And so they did. They started integrating support for cryptocurrencies for companies like Dell, Time Inc., Stripe, PayPal, and others. 
They now hold their own cryptocurrency exchange platform and have traded more than $50 billion worth of assets since the company started in 2012. 
In August of 2017, Coinbase was the first cryptocurrency based company to become Unicorn (a financial term used to denote a company valued at $1 billion or more). 
Pros and Cons
Pros:
High-security measures. One of the safest exchanges.

Coinbase Debit Card for Selected Countries. 

Multiple convenient payment methods.

Legal Transparency 
Cons:
Very high trading fees compared to other exchanges. 

Strict KYC robs you of Anonymity. 

Not available in many countries. 


Features of Coinbase
The primary services provided by Coinbase can be divided into two categories - Coinbase and Coinbase Pro. 
Coinbase
As mentioned above, Coinbase is its digital broker service where you can buy or sell cryptocurrencies in exchange for fiat money through traditional payment services. For newcomers into the blockchain ecosystem who want to hold funds in cryptocurrencies, Coinbase acts as a lucrative option to quickly get some Bitcoin in your wallet. You can access this service at its official website Coinbase.com.
Coinbase Pro
The other leading service they provide is Coinbase Pro, also formerly known as GDAX. From 2016-2017 they added retail support for Ether and acquired legal rights to trade Ethereum and Litecoin. They offer trading in 37 altcoins and 97 trading pairs, with their trading volume reaching as high as 400 million USD per day. You can exchange their platform at pro.coinbase.com.
Coinbase Wallet 
Coinbase launched its independently operating Wallet for mobile devices (Android and iOS) in 2018. It is a multi-coin wallet where you can hold many different altcoins at the same place and securely. It stores the private keys locally on your device and offers an option to backup it to the cloud (mainly on Google Drive). Not to mention their Wallet also supports Web 3 Decentralized apps, also known as DApps powered by Etherium smart contracts.  
What cryptocurrencies are supported by Coinbase Wallet?
Bitcoin (BTC), Bitcoin Cash (BCH), Ether (ETH), Ether Classic (ETC), Litecoin (LTC), XRP and ERC20 tokens, and ERC721 collectibles
What are some other features of the Coinbase Wallet?
Ability to recover wallets using standard BiP39 recovery passphrases of 12 words. 

See the current value of your funds in your local currency. 

Automatically add popular ERC20 tokens and ERC721 collectibles. 

Ability to connect your wallet with your Coinbase Account. 
Coinbase Card
Coinbase offers its users in the United States and EU with a VISA issued card that lets you spend cryptocurrencies. You can use it to pay your favourite merchants or to withdraw ATM cash directly. One can argue this conflicts with the very foundation of blockchain, a decentralized society where no third party can control the flow of funds. But for people who want to use up their crypto assets for typical day to day use cases, Coinbase Card is a very convenient option.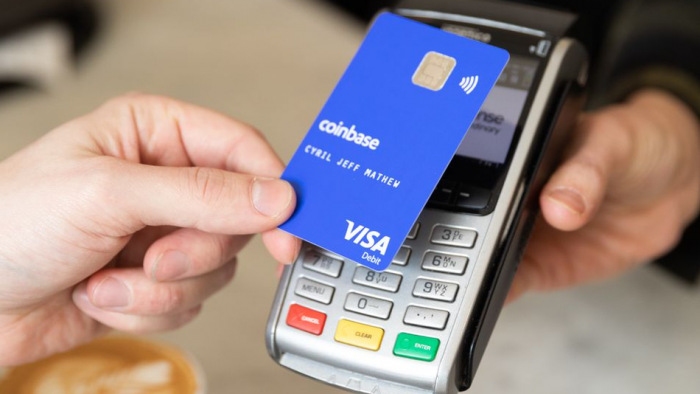 What are the fees for Coinbase Card?
The domestic purchase transaction is completely free. But you need to pay 2.49% as Crypto liquidation fees. Not to mention for general cash withdrawal, for any amount over 200 EUR per month, you need to pay 1% of the amount per withdrawal, which rises further by 2% if you're withdrawing your funds in a foreign country. 
You can read more about their fees and services in their official FAQ section.
USDC Stablecoin
USD Coin, a product of Coinbase, has rapidly grown to be the largest stablecoin in the industry. A stablecoin is a cryptocurrency that is valued at 1:1 with fiat currencies. The price of USDC changes on the basis of US Dollars on a 1:1 ratio. It is also backed by fully reserved assets. 
Coinbase Index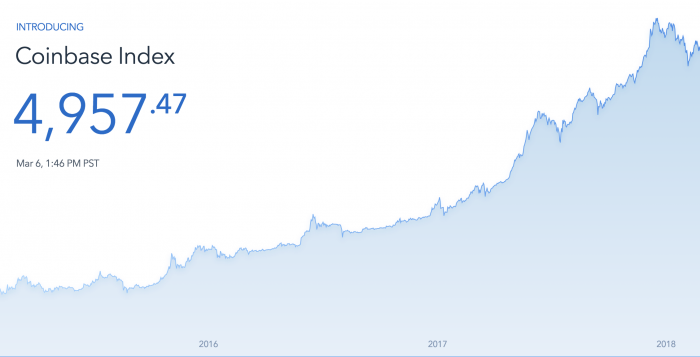 Coinbase Index measures the financial performance of all the digital assets in your Coinbase Pro account weighted by their current market capitalization. Providing diversified exposure to a wide range of assets enables investors to understand all their investments better. 
Deposits and Withdrawals
Deposits and Withdrawals on Coinbase Pro are completely free for cryptocurrencies and ACH. However, if you choose to deposit your funds through Wire Transfer (USD), Swift Transfer (GBP), or SEPA Transfer (EUR), then you need to pay a flat fee. 
Unfortunately, Coinbase Pro doesn't directly support the buying or selling of cryptocurrencies on its platform. You can bypass that by buying the crypto from Coinbase and transferring them to your Coinbase Pro account for free. 
What are the deposit and withdrawal fees? 
With respect to other exchanges, the deposit and withdrawal fees for cryptocurrencies at Coinbase pro are much lower (absolutely free). But they charge you a flat price for depositing fiat. 
Wire (USD) - The fees for depositing your funds with this method costs $10 per transaction. While the withdrawal fees using this method cost $25. 

SEPA (USD) - For both deposits and withdrawal using this method, you need to pay 0.15 EUR.

Swift (GBP) - The deposit fees for this method is completely free, but you need to pay 5 GBP for withdrawals. 
However, if you wanna withdraw or deposit directly through your Bank Cards using Coinbase, you need to pay 3.99% of the total amount. 
Which cryptocurrencies are supported by Coinbase? 
Coinbase supports approximately 40 popular cryptocurrencies. Some of them are - ALGO, ATOM, BAL, BTC, BSV, COMP, CVC, DAI, DASH, ETH, ETC, GNT, LTC, MKR, LINK, USDC, XRP, ZRX, YFI, XLM, UNI REP, OXT, OMG, NMR and others. 


Coinbase Trading Fees
Just like most other exchanges, Coinbase Pro also relies on a maker-taker fee model. The trading fees differ for each party depending upon whether you provide liquidity to the market (the maker) or take it (the taker). 
You are assigned a tier depending upon the amount of funds you've traded in the past. Both the taker and maker fees are also dependent on the level you're in. There are 11 tiers. You start at one and move your way up as you trade more volumes. The fees gradually get lower and lower as you move higher in the tier ladder.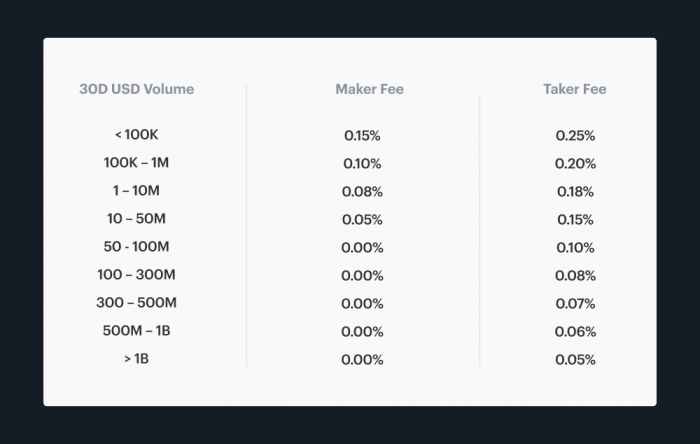 When you place an order and get matched with an existing offer immediately, you're considered the taker. The taker fee varies between 0.50% to 0.04% depending on your tier. Whereas if you place an order and don't get matched immediately, provide liquidity to the market, you're considered the maker. The trading fees for makers vary between 0.50% to 0.00%. 
Are the fees very high? 
Yes. The trading fees for Coinbase Pro is higher than most other exchanges around the world. Other exchanges cap the trading fees under 0.150% for both takers and makers in standard measure. Compared to that, Coinbase requires 300% more trading fees. 
So if you are an investor who doesn't wanna lose much money for trading fees, then Coinbase might not be suitable for you.
Is there a limit to your trading orders?
There is no limit on how much you can trade across all markets, but you still need to cross a definite minimum value for your orders. For popular cryptocurrencies such as Bitcoin, Ethereum and Litecoin, the amount is 0.001 BTC, 0.01 ETH and 0.01 LTC.


Security at Coinbase: How secure is it?
Coinbase is as secure as it gets. There are one of the very few licenses that have registered BitLicense with the New York Department of Financial Services. 
They reportedly hold over 40 licenses just to operate in the United States. Not to mention, they also operate in 31 other countries around the world. They manage their business, their regulatory rights and licenses very sincerely. 
On top of that, Only 2% of the assets in Coinbase Pro are held online. The rest is stored in Cold Storage. They provide insurance to their customers, so they're guaranteed to get it back in a very unlikely event if users lose their crypto assets. Not just cryptos Coinbase Pro provides all USD Deposits are also covered by FDIC insurance of up to $250,000.
What are the other security features at Coinbase?
Apart from the extra measures, they also follow all the standard security practices as well. 
Mandatory Two-Factor Authentication to use your Coinbase accounts properly. 

Channeling all the website traffic via SSL. 

All of the wallets and private keys are stored using AES-256 encryption standards. 
July Hack of 2020
The current year was a good time for hackers as there were many bitcoin scams stealing people off normal people. In July, all the renowned faces from twitter started posting about these schemes where people could send them bitcoin and send back twice the amount. Elon Musk, Bill Gates, the official account of Apple, and many other accounts posted these messages. A mass social engineering attack.
Coinbase reportedly blocked these fraudulent wallet addresses while the hack was still going on. It saved them more than $280,000.
CryptoCompare's July Benchmark ranks Coinbase at the very top when it comes to security with a 15.0 and an overall grade of AA.  It is one of the most secure exchanges out there. 


Cross-platform Support
Coinbase applications are available for both Android and iOS devices.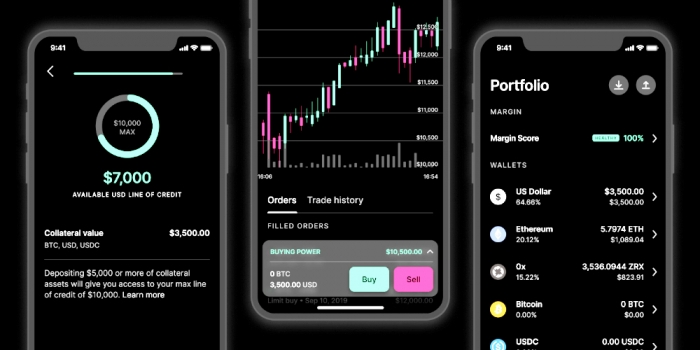 But one should remember there is a subtle distinction between Coinbase and Coinbase Pro. Our focus on this section is primarily targeted towards the latter.
Both of the applications provide a very intuitive and user-friendly dashboard for all your needs. The Coinbase application allows you to securely transfer, store, or convert digital currencies within your e-wallet. In contrast, the Coinbase Pro app provides you with all the necessary information and tools to trade on the go. 
Although not all the features of https://pro.coinbase.com are present in the mobile app, it provides you with the most important ones mentioned below: 
Realtime candles, order book, and depth charge. 

Native currency and crypto transactions

Limit and market orders

Advanced order form. 

Orders and portfolio overview.
They promise the app works very fast so you can make a trade within seconds. The app also supports crypto to native currency trading pairs in the United States (USD), European Union (EUR), and United Kingdom (GBP) and crypto to crypto support for over 100 countries. 
You can have a comprehensive list of the supported countries here.
The app has over 100K + installs with a 3.4 user-review on the Google Playstore. 
Requirements for installation:
Coinbase mobile app for Android requires Android version 5.0 or higher. 
Similarly, the app's iOS version requires iOS 12.0 or higher to be installed on your system. The app is compatible with iPhone, iPad, and iPod touch.
Conclusion
Coinbase Pro is one of the most reliable exchanges around. It makes buying and selling crypto for a novice much more comfortable to start trading. However, it should be mentioned their platform is geared more towards advanced traders who can utilize their features properly and prioritize safety over trading fees. Recently, Coinbase Pro is also adding functionality for Margin trading. The liquidity of Coinbase and provides investors who want to trade very high volumes, not to mention trading fees decrease by a lot the more you trade.