Introduction 
OKEx is a Malta-based cryptocurrency spot and derivatives exchange. They also include futures, perpetual swaps and options for major cryptocurrencies to provide maximum gains. Initially, they were established in Hong Kong later in 2018 when the govt. of Malta ruled favorable laws in terms of crypto trading, they shifted headquarters. 
Currently, they operate over 100+ countries and have one of the most extensive lists of supported cryptocurrencies with over 448 trading pairs. They have one of the largest crypto-to-crypto daily trading volumes in the world. 
How to register at OKEx?
The registration process at OKEx is one of the easiest among exchanges. The whole process can be finished within just a couple of minutes. It doesn't require you to go through any additional hazard or read through countless pages of the user agreement. 
After the signup process is complete, you may need to verify your identity through the following link: https://www.okex.com/account/kyc/type 
Registration at OKEx: Quick Tutorial
Here we guide you on how you can sign up for the OKEx with the easiest efforts. There are also screenshots and detailed information along the way. 
Step 1: Go to the sign-up page
First of all, you need to open the homepage of OKEx on your browser. 

On the top-right corner, there should be the "sign up" button. Click on it to continue. 
Step 2: Set up email and password
After proceeding to the next page, you should see a familiar screen with two text fields. As intended, you need to provide your current email address in FIeld 1. Make sure your email is correct as you need to verify it in the next step.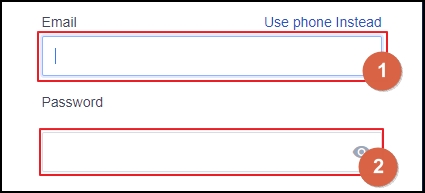 In Field 2, you'll be required to set up a new unique password. Do not use any previously used passwords or fairly common ones. Use uppercase and lowercase alphanumeric combination with symbols. 
Step 3: Captcha solving
Then you need to solve a simple captcha. This is done due to the mass abuse of bots on these platforms. It ensures that only legit users can access the site.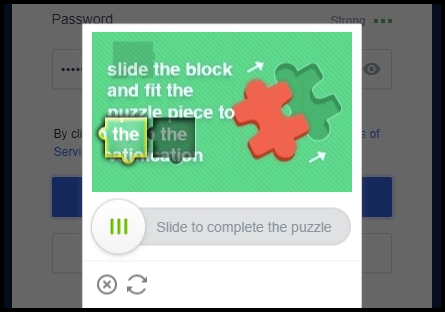 Once solved, it should show you a "Continue". Click on that to proceed. 
Step 4: Email Confirmation
On the final step, you need to confirm your previously entered email. You should have received a one time password after finishing the previous step.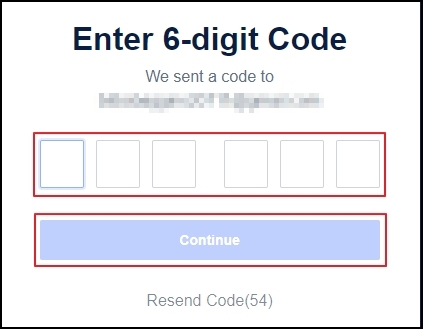 Input the six-digit OTP on the field below then click on "Continue" and you're done. 
You've successfully created a new account at OKEx.  
How to deposit at OKEx?
Just like the registration, depositing at OKEx is also hassle-free. They offer you a bunch of cryptocurrencies and stablecoins to choose from. They don't require any additional fees for deposit and it takes just one confirmation from the blockchain pool to credit you the deposited amount. However, there is a minimum limit to how much you can fund your account with. 
What is the minimum amount you can deposit? 
The answer varies depending on your currency of choice. But here are some details for three popular currencies.  
The minimum amount of Bitcoin, Litecoin and Etherum you can deposit are 0.0005 BTC, 0.001 LTC and 0.01 ETH.
Deposits at OKEx: Quick Tutorial
Here we guide you on how you can make a deposit in your OKEx account. Like their registration process, even this is much easier to process than most other exchanges. 
Step 1: Open the Deposit Section
First, you need to open the homepage of OKEx.

Then click on the "Asset" Menu dropdown on the top right corner of the page. It should show you multiple options. We click on "Deposit"  and continue.
Step 2: Selection of Deposit Currency 
In this section, you need to click on the dropdown menu from Field 1 and pick our currency of choice. Here we proceed with Bitcoin. But there is a wide variety of coins you can choose from.

OKEx offers you the freedom to choose your network of choice where you want to deposit your money. For Bitcoin, there is only one option available. But for other altcoins, you are free to make your own choices.
Then we finally click on "Continue".
Step 3: Choosing your account type
OKEx offers multiple types of accounts where you can deposit your money. For instance, there are options for "P2P Account", "Savings Account", "Funding Account" and others. We continue with the default option - "Funding Accounts".

Step 4: Generating the deposit address 
This is the final step of the whole deposit process. 
If you have followed our guide till now, you have successfully generated your deposit address. You can copy it and send the amount from your current wallet to this address. And the amount will be successfully deposited after one confirmation. 

You can also use the QR code displayed to directly get the Bitcoin Address. 
How to withdraw at OKEx?
Withdrawals at OKEx are just as easy. But you need to follow some extra steps of adding your phone number and a fund security password before you can withdraw your funds. 
Withdrawals are also not free. You need at least three confirmation before your withdrawn money reflects on your external wallet. 
What are the withdrawal fees? 
Much recently in January, OKEx reduced their withdrawal fees for some popular currencies. Here is a list of currencies and their withdrawal fees. 
Bitcoin - 0.0004 BTC
Ethereum - 0.003 ETH
XRP - 0.1 XRP
USDT-ERC20 - 0.88 USDT
How often do they change the withdrawal fees? 
Their website claims, they will regularly adjust the withdrawal fees in accordance with the Blockchain Network. 
Is there any withdrawal limit?
It is based on the KYC status of the user. Normal users with full KYC are allowed to withdraw 500 BTC worth of money per day. 
Withdrawals at OKEx: Quick Tutorial
Here is a short tutorial on how you can withdraw money from OKEx. 
Step 1: Open the withdrawal section
First, you need to open the homepage of OKEx.

Then click on the "Asset" Menu dropdown on the top right corner of the page. It should show you multiple options. We click on "Withdrawal"  and continue.
Step 2: Withdrawal currency selection
In this section, we need to go through three sub-steps. First, select the currency of your choice from Field 1. We will continue with BTC in our tutorial. 
Then you need to select the withdrawal method. For most use cases, we will withdraw our money to an external wallet. Hence, select the "On-Chain" method.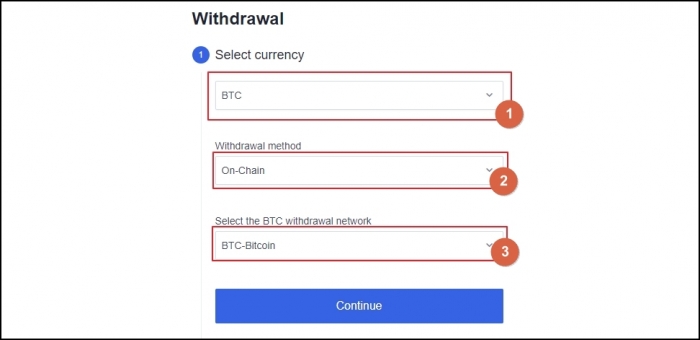 And finally, select your withdrawal network. If you are unsure about what to choose, leave it to default. 
Now click on "Continue. 
Step 3: Withdrawal address
Here, enter the Bitcoin address where you want to receive the money after withdrawal. You can add a note if you want, but it is optional. 

Step 4: Withdrawal confirmation
This is the final step in our withdrawal process. You simply enter the amount you will be withdrawing. The service fee (which is 0.0004 BTC) will be deducted from the amount. And the final amount will be reflected in the "Total" section.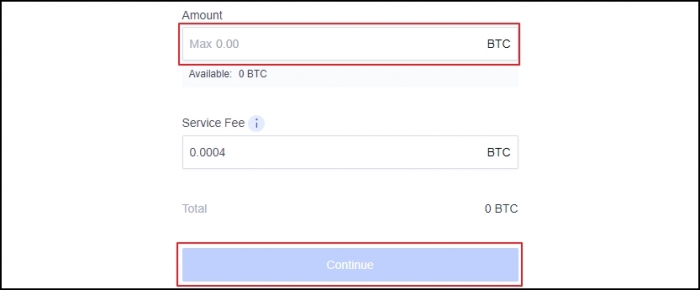 Then click on "Continue" and approve the withdrawal. Done. 
This is how you withdraw funds from OKEx. 
OKEx trading fees
OKEx also follows a taker-maker fee model. The fees are industry standard that is 0.100% for makers and 0.150% for takers. However, that all depends upon the user level you currently have (we talk about that later in this section) or the type of currency you are trading. 
How do the trading fees differ?
Each cryptocurrency is assigned to a different class in OKEx. For instance, BTC and ETH both belong to "Class A" whereas USDT, DASH, DOT are assigned "Class B" and some others in "Class C" respectively. And depending upon which type of currency you trade both taker and maker fee changes. In comparison, Class B has the lowest amount of both taker and maker fees. 
Any bonuses users can redeem over time? 
When you first sign up at OKEx. You are assigned "Level 1". Your level depends upon the number of OKB holdings you have. OKB is a token issued by OKEx itself. If you own more than 500 OKB, then you are redeemed to "Level 2" users. And your trading fees reduce drastically. 
The trading fees for Level 2 Taker and Maker are 0.090% and 0.135% respectively. 
Extra perks for advanced users
OKEx classifies their user base into two categories. Normal Users and VIP users. The trading fees go even lower for VIP users over time. It's just 0.060% for takers where 0.080% for makers. 
To become a VIP user of OKEx one must show more than 1000 BTC equivalent worth of trading in the last 30 days. The more you trade the more you achieve different levels of VIP section as well. And the higher you go, your trading fees keep reducing. It also increases your daily withdrawal limit. 
The trading fees for VIP 7 users are 0.010% for takers, 0.030% for makers with 2000 BTC worth of amount withdrawal limit.
You can check out more about their fees on this page. 
Security at OKEx
Despite being one of the largest exchanges in the world, OKEx has never been breached or hacked. Most major exchange platforms with high volume trade have attracted hackers around the world on multiple occasions. Millions of cryptocurrencies have been stolen in the past, yet OKEx managed to stay safe. 
They don't enforce all the high-security measures at the very start. Yet provide uninterrupted services to its customers. Safe to say, it could be because they are relatively new at the market. 
OKEx started in 2017. They had access to all the recent, up to date security protocols and other exchanges to learn from. Whatever the reason maybe they are one of the safest platforms in terms of security. 
But you should always remember, your funds are always responsibility as you hold the private keys to your wallet. 
Where can you find the security settings?
After you set up your account properly. You will need to visit https://www.okex.com/account/security 
Here is a list of all the features that you should use to keep your accounts secured. From setting up the mandatory two-factor authentication, you can also use Google Authenticator.
Restrictions for US-Investors 
OKEx doesn't support any investors in the United States (including all their territories) and a few other places. Each person who is a resident of the USA is prohibited from using their services. 
What other countries are restricted by OKEx?
Apart from the USA, they officially prohibit people from Hong Kong, Cuba, Iran, North Korea, Crimea, Sudan, Malaysia, Syria, Bangladesh, Bolivia, Ecuador, and Kyrgyzstan.
You can read more about that in their Terms of Services page. 
Multiplatform Support
The team of OKEx understands that often their users need to access these services on the fly when they might not be able to access the website directly. To counter that, they have made applications for both iOS and Android as well as macOS and Windows. It gives them extreme portability as you won't need to carry your laptop and log-in all the time. 
You can download these apps at Google's Play Store and Apple's App Store.
Conclusion
OKEx has been growing rapidly since its launch. And most recently they have surpassed over $1.5 Billion in daily bitcoin trading volume, giving it the hype it needs. It has maintained its position as one of the top players in the market with advanced features embedded for both beginner users and experienced ones. They have made a flexible platform for traders and given them sufficient control of their finances with features perpetual swaps, options trading, futures trading, spot trading and others. We can conclude that, yes - they are top tier and one of the most reliable exchanges.