Introduction
Bithumb is a third-party South Korean cryptocurrency exchange platform. where you can buy, sell and trade altcoins. The daily trading volume of several hundred million dollars makes it one of the largest exchanges on the planet. Their service is extremely beginner-friendly but also well suited for experienced traders. 
How to Register at Bithumb?
Bithumb offers two types of account openings. Individual account and Corporate account. The latter is more suited for business needs. In this article, we mainly focus on Individual accounts and provide a step by step guide on how to sign up for Bithumb. 
You should also note that fiat currency withdrawals are currently halted for corporate accounts at the time of writing this article. 
Signing up at Bithumb: Quick Tutorial
 Here's how you can register for an individual account at Bithumb. 
Step 1: Initiate the deposit process
Go to the site's homepage.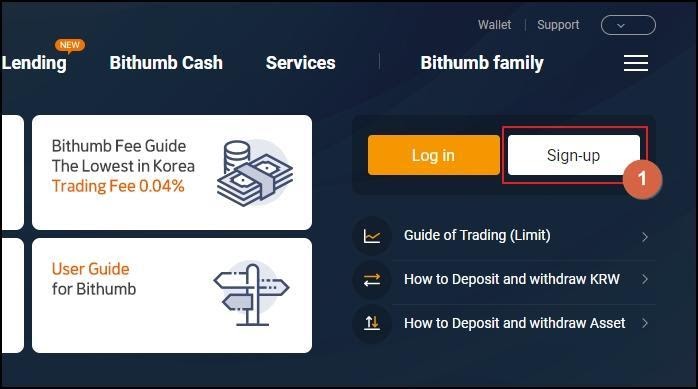 At the top right corner, click on the "Sign up" button.
It leads you to the next page where you pick your country of residents and enter your email.
Step 2: Choose your country and Provide an email
On your current page, fill out your email information in Field 1. You will need to verify this email address later after the account is made. So make sure you enter your information correctly. Secondly, choose your country of residence from the dropdown menu in Field 2

Korean residents need to go through an additional name verification process. Provide original details to keep your account functional. 
Step 3: Complete phone verification
Next, you are required to enter your phone number in Field 1 and click on the next "SMS Request" button. It will send a 6 digit OTP (One time password) that you need to enter on Field 3 in order to make progress.

The 6 digit OTP offers an extra layer of security against any theft or harm. Later on, every time you log in on Bithumb, it will notify you via an SMS on the same number. 
Step 4: Enter Name, DOB and create Password
In this section, you need to enter your Original Name, Date of Birth, Gender. Keep in mind entering any fake information may get your account banned later on. 

Follow basic privacy practices and make sure you comply with the instructions before creating a password. 
Step 5: Set up a security pin
After setting up the password, you are asked to create another 4 digit pin. This will be useful while making deposits, withdrawals, or modifying your account details.

Try not to use your birthday + birth month or any consecutive numbers for your pin. It might compromise your security.
Step 6: Read the license agreements
This is where you should read all those license agreements carefully to get more familiar with the Bithumb Policy. 

You can either click on Field 1 and agree to all those agreements. Or you can read smaller portions one by one.
Step 7: Solve the captcha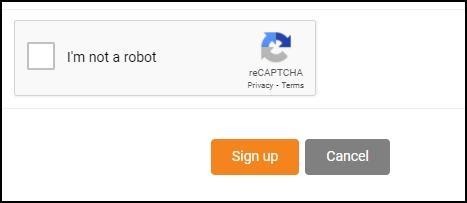 This is where you need to prove you're not a robot. and solve the captcha. Then click on the "Sign up" button once and you're done. 
Once the process is complete, you need to open your email and verify it via the link Bithumb sends you.
How to deposit funds at Bithumb? 
If you want to deposit fiat, you can do this only with South Korean Won (KRW). And there's a large number of cryptocurrencies which you can deposit here. Here's the coins list.
What fees do you need to pay when depositing at Bithumb? 
All deposits are generally done without any fees and commissions. However, if you decide to make a small-amount in deposit in Bitcoin and several other coins, you'll have to pay a minor fee. The point is that you shouldn't probably do that. Find the definition of small-amount deposits at the bottom of this page.
What are the minimum deposit amounts? 
It's 0.005 for Bitcoin and 0.3 for Litecoin. It's 0.04 for Dash. 
Deposit at Bithumb: Quick Tutorial 
Here's your quick tutorial - we use Bitcoin.
Step 1: Initiate the deposit process
Go to the site's main page and hover over the "Wallet" button shown in the screenshot below. In the dropdown menu, pick "Deposit".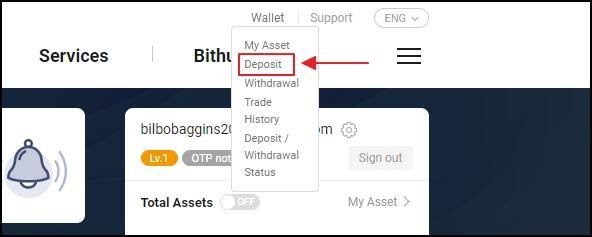 Step 2: Choose the deposit currency
In the next dropdown menu, you should decide on whether you want to deposit in fiat or crypto. 
If you pick fiat, there's only one option - KRW, as shown in the screenshot.

And pick any crypto from the respective list. Bithumb is known to be extremely picky with the coins they allow for deposits. That's why you aren't probably going to see the newest coins permitted for deposits here.

Let's say that we've picked Ethereum. 

Step 3: Generate the receiving address
Then, you'll be asked to create the receiving address.

Step 4: Send the funds to the receiving address
Now you can send the funds to the receiving address. Once the transaction has been confirmed, you'll see the funds in your wallet. 
And now let's talk about how you can withdraw funds from Bithumb.
How to withdraw funds from Bithumb? 
Like Deposit, If you want to withdraw fiat, the only currency available is South Korean Won (KRW). But there's a wide range of cryptocurrencies you can withdraw. 
What are the withdrawal fees at Bithumb?
Internal withdrawals at Bithumb are free. However, if you need to withdraw money to an external wallet, there's a minor withdrawal fee that you need to pay. 
You can have a look at all the withdrawal fees for different cryptocurrencies on their official page.
Withdrawal at Bithumb: Quick Tutorial 
Here's your quick tutorial on how to withdraw money from Bithumb. 
Step 1: Initiate the withdrawal process
Just as Deposit method, open the 
homepage of Bithumb
, hover over the wallet button at top right corner, and click on the "Withdrawal" button.
Step 2: Choose your withdrawal currency
From the dropdown menu at your current screen. You can select the currency that you want to withdraw. In this tutorial we go forward with Bitcoin.
Step 3: Enter your withdrawal amount  
In this section you enter your withdrawal amount, requested amount and click "check on the withdrawal address" to validate it. 

Step 4: Enter your security password
Field 1 in the following screenshot is where you can see your total charges inclusive of withdrawal fees. Then enter the 4 digit security pin on Field 2.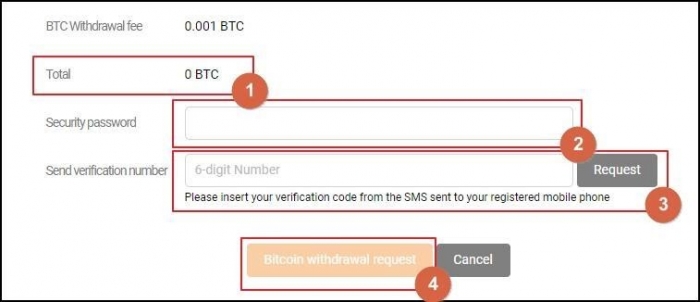 For added security, you also need to click the "Request" button and enter the 6 digit OTP on Field 3. Once done, you click "Bitcoin withdrawal request" and approve it. 
Fees and Charges
Bithumb has a very competitive fee structure. But the prices have gone up as much as 60% in the last couple of years. Previously they used to charge a very low amount. Approximately 0.15% for basic trading fee. But now it has gone up to 0.25%. Although the charges go down rapidly if you use Bithumb Vouchers. 
What are Bithumb Vouchers?
Bithumb offers coupons exclusively to its members. But it can only be purchased using South Korean Won (KRW). Each coupon has an expiry date and a maximum limit. If your transaction is within the limit, then you can further decrease your trading fees. 
After using the vouchers, your basic trading fees will stand between 0.04% to 0.20% approximately.
Disadvantages for International Users
Even though the trading fees seem low, you are unlikely to benefit from it unless you're a South Korean resident. As you'll need to pay the conversion rate and international transfer fee on top of that.
Advantages for South Korean Citizen
Bithumb was established in 2013 based in Seoul, the capital of South Korea. More than 50% of their user base is Korean residents. But they are constantly working to start serving customers worldwide.
South Koreans can take benefit of their fiat deposit and withdrawal services that'll wire-transfer the money directly to your bank account. You won't have to worry about conversion rates or international transfer fees while withdrawing. You can also take advantage of Bithumb Vouchers as they are only available for purchase through South Korean Won (KRW).
Bithumb Hack
Within the past 4 years, Bithumb has been hacked three different times. Each one compromising millions of User and Internal funds from the Exchange Platform. In total, they've seen a loss of around 60 million USD which may have ballooned a hundred million more after the bitcoin price hike in 2018. Personal user information of as much as thirty thousand users were also stolen in these hacks. 
This is one of the primary reasons they've been implementing strict security measures in their system. In the following section, we briefly discuss all of the hacks that took place.
Bithumb Hack: 2017
The hack reportedly took place in February of 2017, though it was only discovered 4 months later in June. Hackers targeted one of Bithumb employee's Personal Home Computers to execute the hack. 
They were able to collect private information of Thirty Thousand Bithumb traders. And demanded 5.5 Million Euros (approximately 7 Million USD) in promise to delete the compromised data. The value of the hacked cryptocurrencies were speculated to have increased as much as 82 Million USD the next year.
The judge assigned to the case found Bithumb "partially responsible" for low-security practices at the time. 
Bithumb Hack: 2018
Bithumb went through the second big hack back in June of 2018. No user data was stolen, but hackers were able to take away as much as 31.6 Million USD from this hack. Later, a South Korean Spy Agency later North Korean Hackers for the event. 
Bithumb Hack: 2019
In March 2019, Hackers stole another 20 Million USD from the exchange platform. This time, the targeted cryptocurrencies were XRP and EOS which amounted to a total of $20 Million. The hack was assumed to be coming from one of the Company Insiders this time. 
According to PeckShield, a blockchain security company, the stolen EOS was then rapidly sent to various other exchanges.
Bithumb Security: Is it safe?
After having three big hacks in three consecutive years, one might ask "Is it safe to use Bithumb?". But the answer depends. You should always research about the security and reliability of a trading platform before you deposit your hard-earned cash. 
After these three unfortunate events, Bithumb has tightened its security. Each user needs to verify their personal information in various ways and follow a multi-level authentication system. This is a good sign they're learning from their previous mistakes. But you can never know if something goes wrong.
How can you minimize your chances of getting compromised?
Always withdraw money from your Bithumb wallet after a successful trade. Before and after trading, always withdraw the money to your local wallet instead of Bithumb. This is a good practice for any exchange platform, not just Bithumb.
Bithumb vs Competitors:
In this section we briefly describe Bithumb vs Some of its strong competitors.
1. Bithumb vs. Upbit
Though UPbit was established in 2017, it is safe to say they are one of the strongest competitors of Bithumb. In 2018-'19 they switched back and forth to be the largest Crypto Exchange platform in Korea.  They hold 53% of the Korean market share. 
2. Bithumb vs. Coinone
The next exchange that makes it to the Bithumb competitor list is Coinone. They were a relatively small exchange platform having only up to 100 employees today. Even though they came into the market far later than Bithumb, they hold an 8% Market share in Korea and revenue over 20 Billion Won each year.
3. Bithumb vs. Korbit
Unlike the other two on the list, Korbit was the first Exchange to launch in the Korean marketplace. They have relatively low fees, high security and are extremely reputable when it comes to foreigner friendliness. They hold a 6% share over the South Korean Market. 
Conclusion
Bithumb is a great Exchange platform if you are a beginner getting into trading. It is most suitable for South Korean Residents. And although proven vulnerable in previous years, they've implemented some of the strongest security measures. Not to mention they are one of the largest trading platforms in South Korea.